Give your employees a dust-free, germ-free, and distraction-free work space with We Kleen 4 U in Aurora, IL
With our specialized office cleaning services you can prevent the spread of infections, bacteria and viruses, such as H1N1, Sars, Coronavirus, and reduce employee sick days, which translate into increased productivity in your Aurora, Naperville, Batavia, St. Charles and surrounding areas. Companies across Illinois turn to We Kleen 4 U because of our reputation for superior and reliable office cleaning services. Our branded office cleaning processes will always deliver high-quality results!
Why leave the cleaning of your office in Aurora, IL in We Kleen 4 U hands?
We Are Experts in Office Cleaning. We Kleen 4 U office cleaning professionals are specially trained in our proven protocols and best practices. They combine We Kleen 4 U brand standards for cleaning excellence with a custom cleaning plan designed to meet the unique needs of your Aurora, Naperville, Batavia and St. Charles office.
We Sanitize Restrooms, Floors, and Carpets. Thanks to our commercial cleaning processes we offer floor-to-ceiling clean in Aurora, Naperville, Batavia, and surrounding areas. We sanitize bathrooms with detailed attention paid to disinfecting high-touch surfaces. We also offer specialty commercial cleaning for carpets and floors, including concrete, vinyl, marble, wood and more.
We Guarantee Our Office Cleaning Services. At We Kleen 4 U in Aurora Illinois we guarantee your satisfaction! However, If you ever find yourself less than 100% satisfied after one of our cleanings, let us know and we'll make it right.
Contact We Kleen 4 U in Aurora, IL or call 630-793-1242 today for a FREE office cleaning estimate.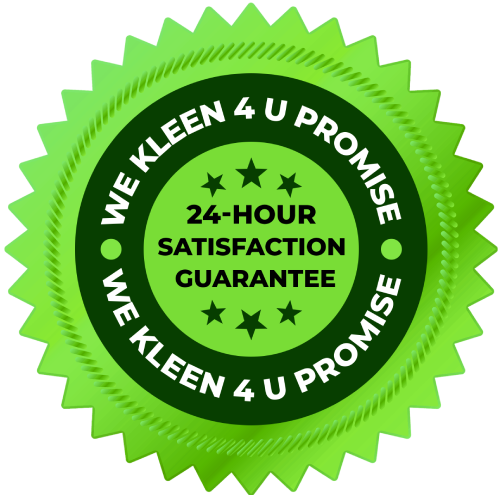 Schedule your cleaning with a 100% satisfaction guarantee
We Kleen 4 U works with some of the most experienced cleaning professionals in Aurora to make sure that you get the best cleaners on the market. Your cleaners will follow your apartment cleaning checklist to ensure everything is up to standards. If, however, you find an issue with your service or believe your cleaners overlooked a spot, fear now! You have a 24-hour satisfaction guarantee. Just report the issue and a team will come back to re-clean the missed areas at no extra cost.
Contact Us
Service Areas
Aurora, Naperville, Batavia, Geneva, Montgomery, Sugar Grove, St. Charles