APARTMENT CLEANING SERVICES
Top-quality solutions for condos, rentals & more Coming home is a wonderful feeling, especially if your residence is clean and orderly when you arrive. No matter what type of dwelling you call home, We Kleen 4 U delivers the most trusted home and apartment cleaning services around.
What's our secret? Well, it's really no secret:
We're flexible
We're insured
We work with our customers' preferences
We offer a satisfaction guarantee
Whether you need our services on a weekly or monthly basis, you can look forward to our industry-leading services and flexible scheduling without the pressure of contracts.
The name homeowners trust
Our customers love the fact that we incorporate their wishes into our time-tested cleaning methods. By working with you to create your very own cleaning plan and following it every time we perform a cleaning service, we're able to ensure consistent results that meet your needs. Each of our professional house cleaners undergoes extensive training to ensure that the services you receive are not only the Molly Maid way, but are your way as well. It's our honor to wear a nationally recognized uniform and provide your most important space with the quality cleaning it deserves.
When you request condo, rental, or apartment cleaning services, you'll receive guaranteed results without having to worry about cancellations or liability. Our team of trusted residential housekeepers will always arrive at your home when scheduled, with your cleaning plan in hand. It's our goal to give you the free time you need and a clean home you can be proud of.
We Kleen 4 U are also available for renters in need of move-in or move-out services. When your security deposit is on the line, trust our professionals to leave your rental spick and span.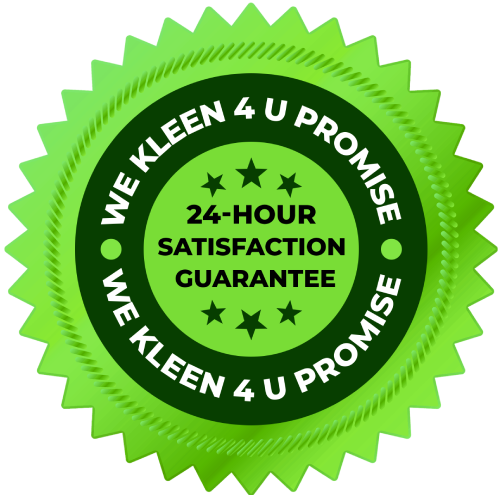 Schedule your cleaning with a 100% satisfaction guarantee
We Kleen 4 U works with some of the most experienced cleaning professionals in Aurora to make sure that you get the best cleaners on the market. Your cleaners will follow your apartment cleaning checklist to ensure everything is up to standards. If, however, you find an issue with your service or believe your cleaners overlooked a spot, fear now! You have a 24-hour satisfaction guarantee. Just report the issue and a team will come back to re-clean the missed areas at no extra cost.
Contact Us
Service Areas
Aurora, Naperville, Batavia, Geneva, Montgomery, Sugar Grove, St. Charles